. Need help? See:
Castle Blaze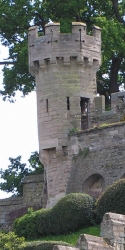 Flying former Cloud Giant Castle Skyreach, taken from the Dragon Goddess cult. Full bedroom, full wizard's lab, population ~60. Armed with three ballistas including a dragon slaying giant's longbow repurposed. Flies 1000 miles per day in a mystical one-way cloud cover, with environmental control.
Contains anything not carried on adventures, including a spare spell book with all 1st level spells. Valuables are stored in a Stone Shaped vault in the bedroom. Other valuables are stored in a Secret chest that both Poppo and Lawrance can access.
In both the bedroom and wizard's lab, there are Magic Mouth spells scattered around with reminders on plans for the castle defenses, renewals of spells, teleportation arrivals and detection of invisible invaders.
Hidden in the bedrock - which only Poppo and Lawrance know how to access, and only Velon also knows exists - is a 20x20x20 lead-lined vault that contains anything important to the party. This vault is currently defended with 6 Glyphs of Warding with embedded 4th level spells - Explosive Runes, Confusion, Black Tentacles, Slow, Stinking Cloud and a Wall of Fire then forms an inward facing burning circle, excluding the corners for heat effects. They are all password disarmed, but they trigger in a specific order. Slow and Confusion trigger first, then Wall of Fire. If there is still someone alive and moving after the Wall of Fire goes out (dispelled or turns), then Explosive Runes trigger, then if still living/moving - Black Tentacles. The last spell to trigger would be Stinking Cloud, if there is still someone moving or living in the room. The lead lining defeats divination and prevents dimension door and other teleports from working, except for a specific angle. Anyone reading this, don't metagame! :D
Castle defense fund currently stands at 9049 GP