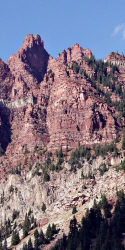 Tazskan, when he isn't adventuring lives, with his sister in a homestead, near a village named Arush Ashuak. The village is settled with Dragonborn, and located on southern lands of Tymanther. It is near the Ash lake, near Green lands. Arush Ashuak, is an agricultural trade hub for the Dragonborn race.
Before, he lost both of his parents to a red dragon, both he and his sister inherited this homestead on a 20 acre property. He has 11 beef cattle grazing, bred for their meat and leather hide. Now his younger sister Soyries a full time Farmer is in charge of the property. Soyries, is now a widow, as her husband died while on an expedition. Both the homestead, outhouse and barn are constructed out of stone, the rainwater tank is glazed ceramic. There is a study, with scrolls, books, simple kitchen, large cooking pot, fireplace, lounge, dinning, two bedrooms. Outside is a round stone target, for practicing, using breath weapon. Fence posts, are constructed from timber, and thin barbed wire DC 25.
There is a livestock barn, that houses the cattle, fodder and farming tools like scythes,spade, wheeled plough, horse cart, saddles, bridle, rope, winnowing basket. Grain such as legumes, and clover seeds are kept in a couple of silos. They are used for cultivating, and feed for the cattle. There is a rainwater tank, and a couple of horses, one for working the plough. The other for pulling a small cart. There is a bath outside, and a outhouse.
Farm animals: Cattle HP: 22 AC: 10 Speed: 40 feet.
Farm riding horses HP: 13 AC: 10 Speed: 60 feet.