The World of Medieval RPG PBP Medieval World
The Game Master says...
SURROUNDING AREA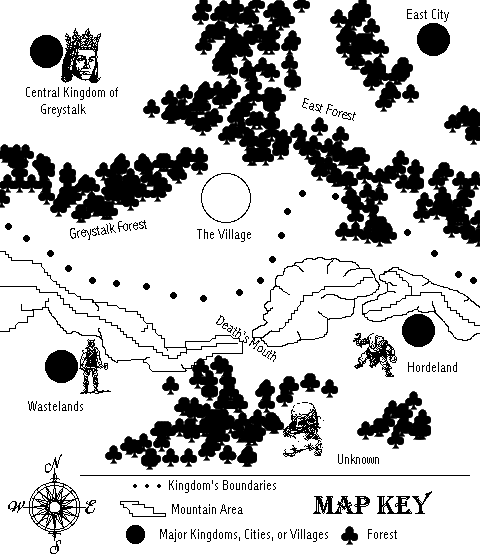 Check The Grid Version Of This Map
The map above is of the surrounding 'world' as you know it.
Basically the Village is under the protection of Greystalk, but rarely do you see soldiers in the town as the King chooses to have them on the move. The outskirt areas beyond the boundaries of Greystalk are largely unexplored. Most that is known about them is what is gathered from scouts, trackers and one or two persons passing through town. The king wishes to explore the unknown regions, but because of far off wars he cannot spare the most valuable of his resources - 'common soldiers'. Greystalk is most respected for its' huge army of well trained soldiers. No one in their right mind would come up against the armies of Greystalk, but they do, far off kingdoms try to land by sea and attack, only to be pushed back into the ocean.
Here is common knowledge:
1. The nearest city to you is Greystalk, 350 miles away.
The King of Greystalk is known to be good, mostly because he does not ask anything of the village. If he began to ask for a tax then surely some of the older village folk would begin to get on edge.
2. East City is 450 miles away. It is known as a strange city because of its independent state (far from everything) and its strange customs. No one from East City ventures through the Village so not much is known about it.
3. Most people pass on open road as they are fearful of the unknown in the forests. Greystalk Forest is considered safe from the unknown save for wild beasts. Bandits like everywhere else hide in forested areas waiting for the helpless.
4. Death's Mouth leads to the largely unexplored land and many that travel that way do not return. Anywhere near the mountains is mostly rocky an uninhabitable. The mountains go roughly 6000' into the sky, but no one knows for sure.
5. Wasteland seems to be marshes and swamp areas occupied by bandits and lone strange men.
6. Hordeland, as legend has it, is occupied by a race of creature called, 'Orc', but no one in the village has actually seen an Orc except for passers by that tell the story.
If you have more questions about the surrounding area. Feel free to ask in the FAQ.