Pandora's Radio Argentina - Radio in Argentina
[Media]

[El Medio]

My passion for radio started when I was 13 years old and I used to spend hours listening to radio programs and calling the station so that they became familiar with me.. I made lots of friends in this way and it allowed me to visit them and know how a radio station looks. Wow, I was "In love"When I put my feet there for the first time. I start working in radio when I was 14, I called a station to request a song and they put me on the air and the announcer after of my song asked me to stay on a private line, so I did and he asked me if I would be interested to work there...I didn't know what to say.... So I said, "Yes" With a smile.

I had an interview with one of the owners of the radio station and he gave me a test which consisted of a practical test in the microphone to evaluate my expression and security. I passed it successfully and I started to work right away as a journalist/announcer in a radio magazine. It was a great experience since I obtained my first tools in media there. Every day I was becoming more and more in love with the radio and the "Magic" That it brings to your life and the life of the people that listen to you. They don't know who you are, they don't know how you look, they don't know nothing about your life, etc...so the imagination plays a very important role there because they "Imagine" You in a certain way that probably you are not. If you went to a radio station broadcast room before, you know what I'm talking about...if you didn't...what are you waiting for?.

Through the years my experience grew until I became more demanding about myself and my work. I wanted professionalism, not just "The little girl talking in the radio for fun". I wanted to be in a certain level of excellence and I worked very hard to obtain this goal. When I finish high school I wanted to study to become an announcer. I was very sure to do that but when I found out that there are only two professional places by law that teach this subject and also the fact that it is very difficult to enroll (Since an average of 1,000 people register to do the exam and only about 30 actually are admitted) I decided to study journalism since I love news and in particular, 'Investigation Journalism'.

---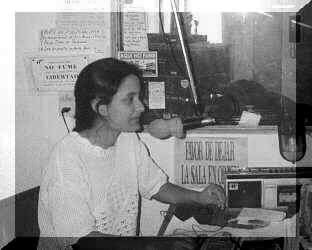 Sol at 16 working at FM Triunvirato
Mi pasión por la radio comenzó cuando tenía 13 años y pasaba horas escuchando programas de radios y llamando a las emisoras para que ellos se familiaricen conmigo. Hice muchos amigos en esta forma y esto me permitió visitarlos y saber como es una radio. Wow, "Me enamore" Cuando puso mis pies alli por mi primera vez. Comenze a trabajar en una emisora cuando tenía 14 años, yo había llamado a un programa para pedir una canción y me pusieron al aire, el locutor me pidió que me quedara por línea privada y me preguntó si yo estaría interesada en trabajar alli. Yo no supe que decir...y dije, "Si" Con una sonrisa.
Tuve una entrevista con uno de los dueños de la estación de radio quien me puso a prueba en el micrófono para evaluar mi expresión y seguridad. La prueba fue un exito y comenze a trabajar rapidamente como periodista/locutora en una radio magazine. Esto fue de una gran experiencia [Yes] que obtuve mis primeras armas en el area alli. Cada día me fui enamorando más y más de la radio y la "Magia" Que trae a tu vida y a la vida de aquellos que te escuchan. No saben quien eres, no saben como eres fisicamente, no saben nada acerca de tu vida, etc...asi que la imaginación juega un muy importante rol porque ellos te "Imaginan" En una cierta forma que probablemente no eres. Si has ido a una emisora de radio antes, sabes de que estoy hablando...si no has ido...que estás esperando?.
A traves de los años mi experiencia creció hasta convertirme más exigente conmigo misma y con mi trabajo. Quería profesionalismo, no solo "La chiquita que habla en la radio para divertirse". Quería estar en un cierto nivel de excelencia y trabaje muy duro para obtener esta meta. Cuando termine la escuela secundaria quería estudiar para ser locutora. Yo estaba muy segura de hacer esto pero cuando averigue que existen solamente dos lugares por ley que enseñan esta materia y el hecho de que es muy dificil entrar (Ya que un estimado numero de 1,000 personas se registran para hacer la prueba de ingreso y solamente 30 pueden ser admitidos) decidí estudiar periodismo [Yes] que me encantan las noticias y en particular, "Periodismo de Investigación".