Chapter:
1

Foreword, Pg:

1

of 4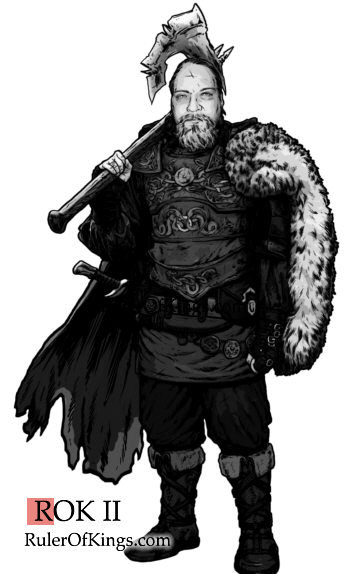 A fearless warrior with axe
T
he pale face man says in a deep slow raspy tone,
"Herein lies some advice fer thee, ensure ye listen well or it will flee.

If ye have read through this first part, the rules and all, then make sure ye are registered as a member or all will soon fall.

If ye have registered in good stead then make sure ye have made thy introduction as is customary. Why an introduction ye ask? So we can separate the delirious from the serious.

If ye have done the both and wish not to waste more time then ye can proceed to create thy character in quick time by firstly reading through these introductory rectos.

Even so, know this... that skipping over things in haste will make thee miss the most important aspects of this bliss. Ignorance will maketh thee a fool if ye get into something without the right tools. Fer knowledge is power and it is in reading one blooms like a flower."
An Explanation of R.O.K. II
W
elcome to "
Ruler of Kings II
" or "
ROK 2
" or "
ROK II
" for short. Ruler of Kings is a "Text based Massive Multi-Player Role-Playing Game" or "Text MMORPG". The word "Text" in this case refers to what you write or read. The Role-Playing comes from the choices you make and future interaction with other Players.
create a medieval fantasy Character based on some questions and choices you make.
Really, it is way more involved than that as ROK II is
not
linear. While you do follow a general scenario your character is not bound by a few choices of where to go next. In ROK II, you can go anywhere in the world at anytime.
Unlike most Text RPGs, you can also alter (write / edit) the story, cause an unexpected situation, detail your relationships, familiars, spells, hire NPCs or simply interact with other Player's Characters. In some instances,
what you write about your Character is also judged
.
Yes, this game is also about your writing. Do not worry, no one here ridicules your words, however you should write in clear readable English. If you
optionally
wish to write in Old English for speech you can use this guide:
Being The Author: Writing In ROK II
.
Once the character is created you will be given a scene in which to further a goal or accomplish a mission. In short, this means you use your reading skills to visualize an engaging scene based on an event that is shown to you. It is very much like reading a fantasy novel but instead of relying on the author solely to tell you what actions a character takes you can decide what the character does or says.
At a specific point, when your character has achieved a certain status and power, you will be able to have that character interact with other players and their characters.
The ROK II rules was created on a very simple system that the Administrator of this site developed for custom RPGs. Therefore,
you do not need to worry about any prior knowledge of how to play
as it is an
easy
step by step process. In fact, there are "Tip Boxes" throughout the game to help you along.